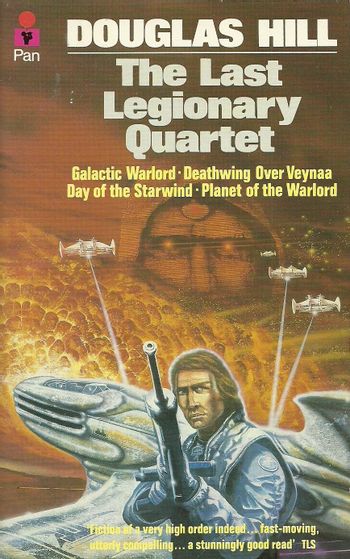 "This is a recording Keill. I am dying too. Will be dead when you hear this. Go Overlight and get away. Do not approach planet. Nothing to be seen or done. Save yourself if you still can. Warn other legionaries if there are any alive. And if you live try to find who did this evil. Avenge us Keill. Avenge the murder of Moros."
— The final transmission from Oni Wolda to the protagonist Keill Randor.
A series of Young Adult books by the author Douglas Hill, the Last Legionary consisted of four main books as well as a prequel novel called, appropriately enough, Young Legionary.
The series had the main character Keill Randor returning to his homeworld, only to find that due to enemy action, he has become the only survivor with his homeworld destroyed. Saved from a lingering death by a secret organisation and accompanied by a telepathic alien, Keill sets out to track down and destroy an evil organisation hell-bent on conquering the galaxy.
Galactic Warlord covers Keill returning to Moros and narrowly avoiding being killed along with everyone else, due to damage sustained in a brief spacefight. He vows to avenge his people and sets out to find out who committed the atrocity and whether there are any other survivors, which brings him into contact with the Overseers and Glr and also, a group of thugs masquerading as Legion survivors.
Deathwing Over Veynaa sees him set out on his first mission on behalf of Talis and the Overseers; to a civil war between asteroid miners and the Veynaan government. Agents of the Warlord, the Deathwing, are seeking to escalate the conflict and gain control over the valuable substance mined in the Veynaan asteroid belt.
Day of the Starwind has Randor investigate reports of mercenaries whose skills seem equal to the Legion's, taking him to the desolate world of Rilyn; where a rogue planetoid regularly brings massive storms known as the Starwind to its surface. There he finds the Deathwing at work once again; working to try and produce their own Legion; with clones of some of Moros' greatest warriors.
Planet of the Warlord was the final book in the quartet, and finally revealed the nature and homeworld of the sinister Warlord. Keill competes in the Battle Rites of Banthei in order to draw attention to himself and his enemies out of the shadows. It works all too well and Keill is captured. Can Glr rescue him from the clutches of the Deathwing before he reveals the location of the hidden Overseer base?
Young Legionary was a prequel to the other Legionary books, though written later. It looks at Keill's training on his homeworld of Moros, and expands on the relationship with Oni Wolda that's hinted at in Galactic Warlord.
---
This series provides examples of:
---