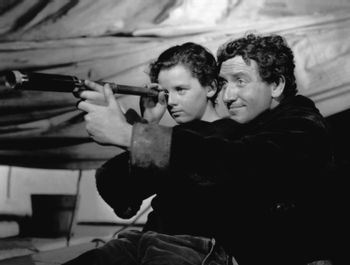 Captains Courageous is a novel by Rudyard Kipling. It was first published in book form in 1897, having been serialized in McClure's magazine the previous year.
Harvey Cheyne, the spoiled teenage son of rich American parents, is washed overboard during a transatlantic voyage. He is picked up by a deep sea fishing vessel, whose captain refuses to cut short the ship's fishing run and makes Harvey work his passage.
The novel was adapted for the screen in 1937. The film was directed by Victor Fleming, and starred Freddie Bartholomew (the era's biggest child star, non-Shirley Temple division) as Harvey, supported by an All-Star Cast that included Melvyn Douglas, Lionel Barrymore, John Carradine, a young Mickey Rooney just as he was breaking out as a star, and Spencer Tracy as Manuel, the Portuguese fisherman who becomes Harvey's mentor and father figure. It was nominated for four Academy Awards, with Tracy taking home his first Best Actor statue (he won another one the next year for Boys Town).
A Made-for-TV Movie adaptation aired on ABC in 1977, starring Jonathan Kahn as Harvey and Ricardo Montalbán as Manuel.
---
This novel provides examples of:
Spoiled Brat: Harvey, to begin with. He's pretty awful.
Wooden Ships and Iron Men: The depiction of the fishing vessel has elements of this, though it's not a fighting ship.
Wounded Gazelle Gambit:In the film, after getting punched in the face by another boy, Harvey smears ink all over his clothes and fakes a limp to wins his father's sympathy.
---