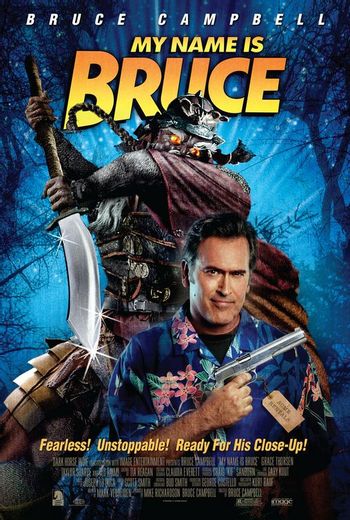 The quaint little town of Gold Lick, Oregon has a problem. After a group of horny teenagers trying to get laid in a cemetery accidentally let an ancient Chinese spirit of war and bean curd loose upon their homes, Gold Lick's small population (339) gets a little smaller every day. Thus, a local Bruce Campbell fan named Jeff decides to do the logical thing: recruit the man himself, presently shooting his latest film masterpiece, Cave Alien 2, to fight the demon off.
Sadly for him, Bruce is hardly the fearless action hero Jeff remembers from Evil Dead; he's a narcissistic, nervous wreck with a failing career and love life who spends his evenings drunk-dialing his ex-wife. Unaware of the danger at hand, believing instead that he's performing in a top secret movie project, Bruce meanders through Gold Lick, arming himself to the teeth in preparation for his confrontation with the demon Guan-Di. Little does he realize, of course, that shit is about to get way too real.
Just another ordinary day in the life of a hero.
Not to be confused with the 1980s kung-fu movie parody movie They Call Me Bruce? or it's sequel They Still Call Me Bruce. And it's unrelated to the sitcom My Name Is Earl.
---
This film contains examples of:
---