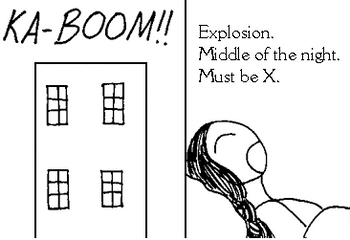 "I'm Aylia, I'm from a magical world, and I don't want to be here."
A Magical Roommate
is a web-based comic by Emily Martha Sorensen, who is now making To Prevent World Peace.
Aylia of Umbria always knew what she wanted to do with her life: as a magical genius, she wants to go to a prestigious wizarding school and become a master of the craft. Unfortunately, she's got a problem: her parents. Her father, Joralan, is a royal duke without a brain, who goes along with what his wife says because that's what he thinks a good husband should do. Her mother, Lettie, is from our world, and has managed to convince herself that her delusions are true. What delusions? Well, to start, she thinks Aylia wants to go to college. In our world. Without learning any magic at all.
Aylia disagrees.
Unfortunately, her hands are tied: as a noble, the laws state that Aylia must obey her parents' wishes until she turns twenty, and that's a couple of years off. So with no other options, it's off to our world for Aylia.
In another world (no pun intended), Aylia would go to college and do one of our degrees, becoming good friends with her roommates all the while... except for three things:
1. Not only does Aylia not care about her degree, she also doesn't care about any of those weird things like studying, schoolwork, not telling people the truth about who you are and where you're from, and not doing magic in front of people who don't know that it exists.
2. People from her world start showing up constantly: her parents, her sister, her cousin the werewolf, the werewolf who bit her cousin... you get the idea.
3. Her roommates consist of one incredibly nice girl who just wants everyone to get along, one girl who hates having weird roommates, and a monosyllabic girl with a one-letter name who likes to blow things the fuck up. And as college progresses, the ratio of normal roommates to weird roommates starts sliding in favour of the weird, and doesn't stop.
And it only gets weirder from there.
The strip was completed, with a grand total of 2,100 entries, on May 27, 2011. A backup can be found here
.
---
This webcomic provides examples of:
---