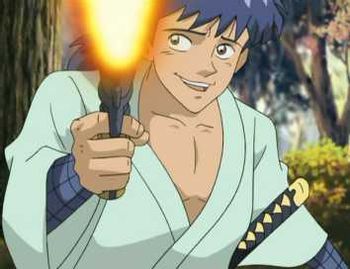 "Uo' mabushi'!" ("Wow, it's dazzling!")
—Miyamoto Musashi
Possibly the defining experience in So Bad, It's Good anime.
Musashi Gundoh is set in a fictional feudal era of Japan, when the Toyotomi Shogunate (instead of Tokugawa) governed the nation. This 2006 anime tells the story of Musashi, a young practitioner of "gundoh", a martial art involving the use of guns. The series deals with Musashi's battles against a group of monsters called "Ayakashi". The art is terrible, the action is terrible, the plot... well, the series was never officially translated into English, and so people are reluctant to talk about the plot. Legend has it that it's funny.
That the TV broadcast version is considered superior to the retouched DVD release certainly says something.
Possibly the only reason this ever got made is that it was a discarded idea by Monkey Punch. Yes, THAT Monkey Punch.
---
Musashi Gundoh contains examples of the following tropes:
Set Swords to "Stun": In the first episode, Musashi slices up a bunch of people with an electric sword that stuns but does not kill.
---