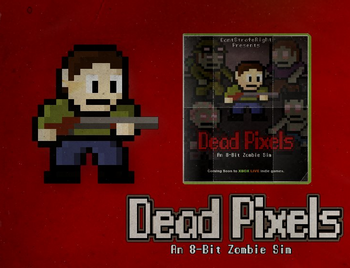 Dead Pixels
is a
Retraux
game developed by CSR Studios and released in 2012 for
Xbox Live
and
Steam
. As its name suggests, it is drawn with pixel graphics and places the player in the middle of a city-wide
Zombie Apocalypse
.
The game includes several RPG Elements such as a level system to keep things interesting. Alone or with a buddy, you have ten (more on higher difficulties) levels of zombie killing action to get through if you want to make it to an helicopter evacuation on the other side of the city. Two new modes, called "The Solution" and "Last Stand", were later added for free to everyone who bought the game.
A sequel, Dead Pixels II, has been slated for late 2019, but will likely be delayed.
No relation to the series of the same name (outside of being related to videogames).
Provides Examples Of:
---