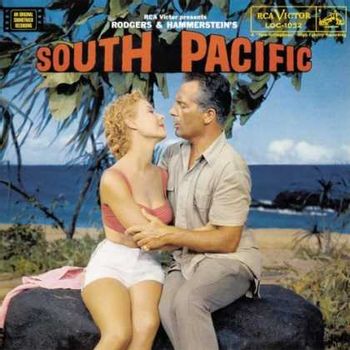 Some enchanted evening, when you find your true love
When you feel her call you across a crowded room,
Then fly to her side, and make her your own
Or all through your life you may dream all alone!
—"Some Enchanted Evening"
South Pacific is a musical by Rodgers and Hammerstein, originally produced in 1949. It was nominated for ten Tony awards, and won all of them, including the second ever Tony for Best Musical. South Pacific is also the only musical to win Best Production, Best Direction, and all four acting awards at one time.
Nellie Forbush is a Navy nurse from Arkansas serving in the South Pacific during World War II. She has met a local French plantation owner named Emile de Becque. Lieutenant Joe Cable arrives on the island to take part in a spy mission.
Cable tries to get Emile to agree to be his guide for the mission, but Emile will have none of it. Bloody Mary introduces Cable to a beautiful Tonkinese girl named Liat. Cable is enamored, but is shocked to discover that she is Bloody Mary's daughter. Nellie also makes a discovery about Emile that forces her to face her deep-seated racial prejudices.
The show has many well known numbers, including "Some Enchanted Evening," "I'm Gonna Wash That Man Right Outta My Hair," "Younger Than Springtime," "Nothing Like a Dame," "Honey Bun," and "Wonderful Guy."
The musical received a film adaptation in 1958, starring Mitzi Gaynor as Nellie and Rossano Brazzi as Emile. It made more money than any other movie of the year. A remake was done in 2001, starring Glenn Close, Harry Connick Jr. and Rade Šerbedžija.
Not to be confused with the 2009 Nature Documentary series.
---
This musical provides examples of:
---
The film adaptation provides examples of:
---