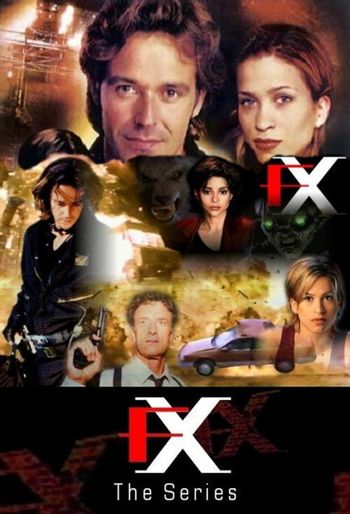 F/X: The Series is a spinoff TV series based on the films F/X: Murder by Illusion and F/X 2: The Deadly Art of Illusion, which ran for 40 episodes and aired from 1996 - 1998.
The show focused on Rollie Tyler (Cameron Daddo), a special effects technician living in New York City with his assistant Angie (Christina Cox). Tyler assists a NYPD detective named Leo McCarthy (Kevin Dobson) with capturing dangerous criminals. Tyler would often have to use his knowledge of special effects to outwit his enemies and stop them, with his complex, effect-heavy plans forming the climax of most episodes. The show also featured Carrie-Anne Moss (The Matrix) as a recurring character—aspiring actress and stunt-person Lucinda Scott—who would often be enlisted to aid in Tyler's illusions. Later episodes also introduced the "Chameleon", a dangerous criminal who had the same ability to create special effects like Tyler, and used his skills to create chaos in the New York area.
The show performed a Retool at the opening of its second season, killing off one of the main characters and replacing them with Det. Mira Sanchez (Jacqueline Torres), who appeared for the remainder of the show's second (and final) season.
F/X was filmed in and around the Toronto, Ontario area in Canada, where many landmarks could be glimpsed during the series. The show also featured a wide variety of guest stars (including Maria Conchita Alonso, John Spencer, Michael Ironside and others). The show was a mix of Mission: Impossible and MacGyver.
---
This TV show contains examples of:
---