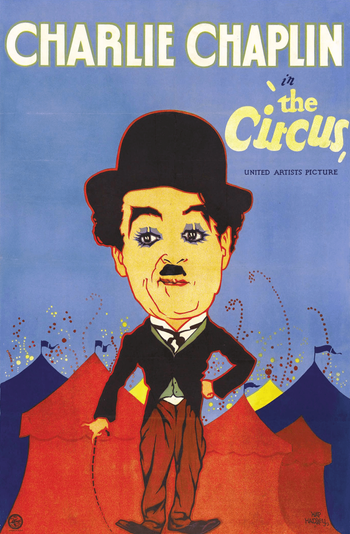 The Circus is a 1928 feature film written by, directed by, and starring Charlie Chaplin.
Chaplin stars as the Tramp, who, while running away from the police — who mistake him for a pickpocket — runs into a circus big top and is an (unintentional) comedy hit. The circus owner (Al Ernest Garcia) finds that Charlie can't be funny when they want him to be, so he gets a job as a janitor who "accidentally" winds up as part of the act every night.
Charlie falls in love with the owner's daughter, Merna the circus rider (Merna Kennedy), and determines to save her from her abusive father. She only considers him a friend, however, and instead falls in love with Rex (Harry Crocker), the circus' tightrope walker. Charlie tries to impress her by also learning to walk the tightrope, but almost gets killed in the process.
Eventually, Merna runs away from the circus, so Charlie convinces Rex to marry her to keep her safe. They then return to the circus, but Charlie stays behind, going back to being a tramp.
Chaplin's last true silent film,note Both City Lights and Modern Times featured recorded music, the latter with sound effects and brief vocal snippets The Circus is less well-remembered today than his previous effort, The Gold Rush, or his next features City Lights and Modern Times. The film was also plagued with production difficulties both internal (a fire destroyed much of the set) and external (production took place during Chaplin's ugly, public divorce battle with Lita Grey, causing Chaplin to smuggle portions of the film out of Hollywood to prevent Grey's attorneys from seizing it).
Chaplin was awarded a special Academy Award, at the first-ever Academy Awards ceremony in 1929, for "versatility and genius in acting, writing, directing and producing The Circus". He received this award explicitly in lieu of the film being eligible for any competitive awards. The film can be seen here
.
---
This film provides examples of:
---