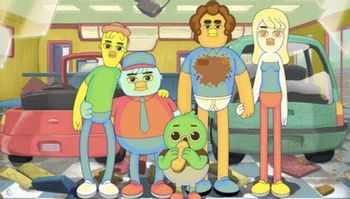 Stone Quackers is an American animated television series created by artist Ben Jones and airing on FXX as part of their Animation Domination block. A sneak peek of the show was aired on October 27, 2014, alongside a sneak peek of Major Lazer, while the series began its official run on January 8, 2015.
Relying heavily on surrealism, absurdism, non-sequiturs, and utterly random events which have nothing to do with anything, Stone Quackers follows a group of anthropomorphic ducks living on the fictional Cheeseburger Island: slacker best buds Whit and Clay, their obese manchild friend Barf, mentally insane female cloudcuckoolander Dottie, extremely inept authority figure Officer Barry (the object of Dottie's affection), and naive neighborhood kid Bug. Episodes tend to follow a stream-of-silliness structure and rarely stick with any kind of conventional, coherent plot line; for example, one episode ends with the house turning into a demonic snake pit right out of nowhere. Much of the show's humor is derived from how utterly random everything is, as it's usually quite impossible to predict what, exactly, will happen next.
In a sense, Stone Quackers can perhaps be described as being like Regular Show (which was already pretty surreal to begin with) on a heavy dose of acid.
---
Tropes:
---