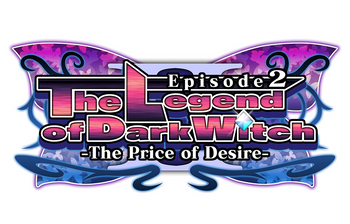 The Legend of Dark Witch Episode 2: The Price of Desire
(
Majin Shoujo Episode 2: Negai e no Daika
), is a digital indie game developed by Inside System; it is the sequel to
The Legend of Dark Witch
. It was first released for the
Nintendo 3DS
eShop (2015 for Japan and North America, early 2016 for Europe) and was released on Steam in 2017.
Germa, a nation known for its magical research, appears to be gearing up for war. It has sent a group of its most feared researchers, Ich, to neighboring country Liana. It's up to Zizou Olympia, the titular Dark Witch, to investigate Germa's suspicious actions. Meanwhile, Sola, not having heard back from her parents in a while since leaving to study abroad, heads back to Liana to investigate their disappearance, crossing paths with Ich's researchers along the way.
Like the first game, The Legend of Dark Witch 2 is heavily based on the Mega Man series, specifically the Classic games. However, the Gradius-like upgrade system from the first game returns. Revenge Magic unlocks a powerful attack after the player has taken a certain amount of damage, and Capacity is a new cost system that allows players to use weapons without giving up meter for their Slot upgrades. In addition, there are a variety of new power-ups to help the player blast through the game's quirky enemies.
Like many Mega Man clones, each boss has a weakness to a certain weapon and gives out the following when defeated:
The game's sequel, The Legend of Dark Witch 3, has since been released. The "Rudymical" mini-game was also spun off into its own title for mobile and Nintendo Switch.
The Legend of Dark Witch Episode 2 contains examples of:
---