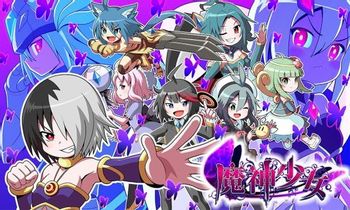 The Legend of Dark Witch (Majin Shoujo in Japan) is a digital-exclusive game developed by indie group Inside System and translated into English by digital publisher Circle Entertainment. It was released worldwide for the Nintendo 3DS eShop in 2014, Steam in 2015, and the Play Station Vita in 2015 (Japan) and 2017 (North America and Europe). In 2019, an enhanced version was released for the Nintendo Switch and Steam; the Steam version of this port is named The Legend of Dark Witch Renovation to differentiate it from the prior Steam release.
Syega crystals give magical power to the land's people, but someone stole all of them. Zizou, the titular dark witch, sets out to find the culprit and the Syega crystals, exploring 2D stages and battling bosses along the way.
Gameplay is similar to 2D Mega Man games, as Zizou moves in horizontal stages, jumps and shoots, and gains bosses' powers. However, it also has features that make it unique. You can enhance Zizou's ability with Tres crystals, which powers them up à la Gradius — but taking damage causes you to drop Tres you've gathered, so the game encourages you to use them when you collect them. Zizou can even enhance boss abilities for extra power.
The Legend of Dark Witch is the first entry in what would eventually become a series. Other games in the series include:
The Legend of Dark Witch 2 (3DS and Steam)
Dark Witch Music: Rudymical (iOS and Android)

Dark Witch Music Episode: Rudymical (Expanded version for Nintendo Switch)

Brave Dungeon (3DS)

Brave Dungeon + Dark Witch's Story: Combat (Enhanced port of Brave Dungeon that includes a card battle game for Switch)

The Legend of Dark Witch Connect! (iOS and Android)
Brave Dungeon: Seigi no Imi (Switch and Steam)
Being a Mega Man clone, each boss uses a certain weapon as well as having a weakness to some of them, so in order:
---
The Legend of Dark Witch contains examples of:
---