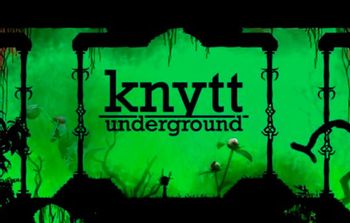 "Knytt Underground is the biggest game I've ever developed and is the first game where I feel that I have a story to tell. It's about the big questions; trying to understand life and our place in it - and failing completely."
—Nifflas
Knytt Underground is the sequel to Knytt and Knytt Stories by Nicklas 'Nifflas' Nygren. It is the first game in the series to be sold commercially, and the first to appear on consoles.
Hundreds of years in the future, humans have vanished from the Earth and the planet's surface is believed to be uninhabitable. Various races of tiny creatures such as sprites, tails, fairies, and pixies (collectively known as "knytt") have established thriving societies in underground tunnel networks, often using remnants of human technology to their advantage. The game is divided into three chapters:
Chapter 1: The player takes control of a mute sprite named Mi, who wishes to travel to a fairy fountain where the fairies will grant her wish to be able to speak.
Chapter 2: Control switches to the ball from Within a Deep Forest. He meets a fairy named Rob, who christens the ball "Bob" and accompanies him through the underground.
Chapter 3: Mi has been chosen to ring the six Bells of Fate, said to be the only way to avert The End of the World as We Know It, maybe. The player can switch between Mi and Bob at any time with the press of a button - using the pair's unique abilities in tandem is the only way to reach many areas on the map. Mi is accompanied by the fairies Dora and Cilia, who do all the talking for her since she's mute. But will ringing the Bells actually save the world, or is it just silly superstition?
The game retains the classic Metroidvania gameplay of its predecessors, with the player guiding Mi through the underground to collect items, complete quests, and find and ring the Bells of Fate. Yes, quests: as you progress through the game you'll meet NPCs who may give you tasks to complete (usually finding an item or another NPC), often rewarding the player with more items to be used elsewhere. However, unlike Knytt Stories, the items you collect generally don't give you new abilities; instead, you trade them to the gatekeepers who guard the Bells, allowing you access to them.
Knytt Underground was released on December 18, 2012 on PlayStation 3 and Play Station Vita, with a PC and Mac release following on December 22. A Wii U version was also released in December of 2013. Download the demo here
.
---
This game has examples of:
---