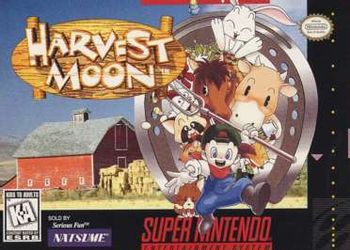 Harvest Moon is the first title in the Harvest Moon (now known as the Story of Seasons) series, released in 1996 for the Super Nintendo.
Your grandfather has died and you decide to take over his old farm. You have a little over two years to get the farm back to what it once was. During that time you can get married, have children, or pretty much do whatever you please. After your time is up, your father will appear and review your progress.
Harvest Moon was one of the last games released for the SNES so it didn't get much recognition at the time. It was successful enough to have an Even Better Sequel on the Nintendo 64, which spawned an entire franchise, along with some Game Boy side-games at the time. In 2008 it was added onto the Wii's Virtual Console and is also on the Wii U's Virtual Console.
In Japan, there was a Satellaview version of the game called Bokujo Monogatari (BS) released in 1996.
The first portable game in the series, Harvest Moon GB, is actually something of a demake of this game. It has the same basic plot, but removes a number of features from the SNES game: the marriage system is completely gone, the only area you can fully explore is your farm, the mountain area is gone, the village is just a glorified set of menu screens, and there's no "real" ending like the SNES version, meaning you can keep farming forever. The only addition is that HMGB was the first game in the series to allow the player to chose between playing as either a male or female. The GameBoy version got 2 sequels, Harvest Moon 2 and Harvest Moon 3.
Harvest Moon has a direct sequel in Harvest Moon 64 and many characters were reused in the 10th anniversary title Harvest Moon: Magical Melody.
---
Harvest Moon provides examples of:
---