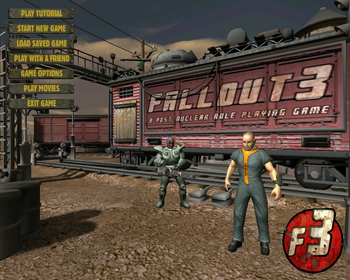 Van Buren was the original Fallout 3. Note that its name would have been "Fallout 3", and "Van Buren" was merely its development codename. It was in full 3D, but utilized a top-down perspective much like the old games. It was canceled shortly before Interplay went under in 2003 and closed Black Isle. Backlash ensued, and while some fans were placated when Bethesda released Fallout 3 five years later, others view Van Buren as the real and superior version of Fallout 3 and are still incredibly upset about its cancellation. Despite the game being cancelled, some elements of its story have been adapted or directly incorporated into the Fallout canon.
Prison may not be an okay place to live, but Tibbets Facility, cell number thirteen, is home. The technology dates back to before the Great War, and plenty of robots are there to look after you. You've been there so long you can hardly remember why; perhaps you were guilty of whatever crime they've convicted you of, or perhaps not, but it doesn't matter either way. At least you're alive, and outside, things aren't safe.
Then, one day, you wake up to find things have changed. Not only are you in a completely different prison, but there's a rather large hole in the wall, which you proceed to walk out of. Back in Post-Apocalyptic Arizona, you find yourself besieged by robots wanting to take you back to your cell, strange diseases infecting select towns, a war between the New California Republic and the Brotherhood of Steel, a strange slaver army called "Caesar's Legion" that seems obsessed with ancient Rome and led by a maniac who calls himself Caesar, and a menacing figure named Doctor Victor Presper who wishes to instigate another nuclear holocaust on the world.
Alone, with empty pockets and an army of problems at your back, you head out into the wasteland.
A mostly working tech demo for the game was completed, and was eventually leaked to the Internet, and can still be found on various fan sites. It has its own story set during the Great War itself, and was meant to be the game's tutorial. Nearly all of the details you see here and elsewhere around the net are gleaned from the enormous mountain of design notes leaked to the internet by the development staff, containing nearly everything from the game including many parts that had already been cut during development long before the cancellation.
Fallout: New Vegas, which takes place in one of the areas this game would have covered, has a completely original story, but draws on the enormous amount of design done for Van Buren and select elements (such as Caesar's Legion and The Hanged Man, now The Burned Man) do appear in the game. It helps that Obsidian Entertainment, the developer of New Vegas, was founded by many former Black Isle staff, including Chris Avellone.
And in case you were wondering: "Van Buren" was a Working Title. The game had absolutely nothing to do with USA's 8th president, Martin Van Buren. Interplay just code named projects in development after American presidents out of ease. Nor does this have anything to do with the obscure Van Beuren Cartoon Studio.
A group of fans have pooled together to recreate Van Buren. The project is still in its early stages and/or dead, but some screenshots are available. Their forum can be found here
.
Tech Demo
---
Tropes found in this game include:
---