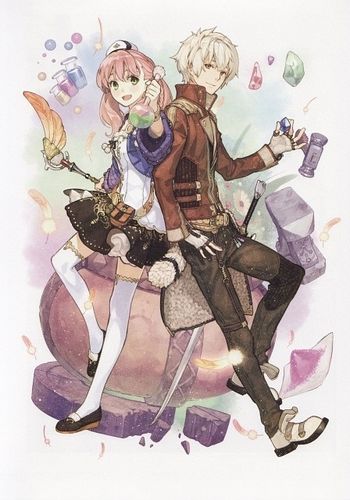 Atelier Escha & Logy
is the second entry in the Dusk Trilogy of
Atelier
games on the
PlayStation 3
, released in June 27, 2013 in Japan, March 7, 2014 in Europe, and March 11, 2014 in America. An
Updated Re-release
,
Atelier Escha & Logy Plus
for
Play Station Vita
, adds a new character (Nio Altugle), extra story content, and
Bonus Bosses
.
Atelier Escha & Logy DX
, a second re-release based on
Plus
, was released for
PlayStation 4
,
Nintendo Switch
, and
Steam
in late 2019 in Japan and early 2020 globally.
The game takes place a year after the end of Atelier Ayesha: The Alchemist of Dusk, this time in a land far to the west known as the Twilight Land, centering around an apple orchard village of Colseit. Two alchemists, Escha Malier and Logix "Logy" Ficsario have been recently assigned to Central's R&D Division. Escha, an apprentice of the old-school, cauldron-stirring variety of alchemy taught to her by her mother, and Logy, an up-and-coming student of more modern alchemical techniques, have vastly differing personalities and skills, which serve to both exasperate and complement each other. Headed by Marion Quinn of the previous game, they run errands, fulfil requests and chase off any monster that strays too close to town, all in order to prove to Central that the R&D Division, which was just recently disbanded, actually has worth. In their free time, they busily maintain their relationships with their rather eccentric circle of friends and colleagues.
The plot eventually centers around the one oddity with the village: there are unexplored ruins floating above. While Colseit was originally established in order to explore them, the villagers have failed to achieve that ambition thus far, and for very good reason — the journey to the ruins could prove fatal. Few airships can stand up to the floating debris and turbulent winds that surround these remains of a past civilisation, and so the ruins remain a local fairy tale, tantalisingly close yet completely out of reach. The duo hopes to build an airship capable of reaching the ruins to uncover its secrets.
Meanwhile, The Land Of Dusk continues its slow downward spiral, as water sources dry up and towns are abandoned. Relics of the past turn out to be distinctly more lively than they have any right to be, and then Central City turns its eyes towards the floating ruins...
While there have been other games in the series involving two or more alchemists as major characters, this is the first in the series with two title characters. Like most Atelier games, it can be described as one-part JRPG, one-part Time Management Game and three-parts Item Crafting with a dollop of Moe for flavour. The game is slightly changed depending on which protagonist you choose at the start, with Escha intending to provide a more traditional Atelier experience and Logy meant to lean more towards a typical heroic JRPG protagonist. He's also the first playable male alchemist since the Iris subseries. Both characters are still playable regardless, with each one providing a different type of alchemy to be used by the player.
A direct sequel named Atelier Shallie: Alchemists of the Dusk Sea was released in Japan in July 2014 and in North America and Europe in March 2015. A 12-episode anime series done by Studio Gokumi ran starting in April 2014.
---
Tropes that appear in Atelier Escha & Logy: Alchemists of the Dusk Sky:
---