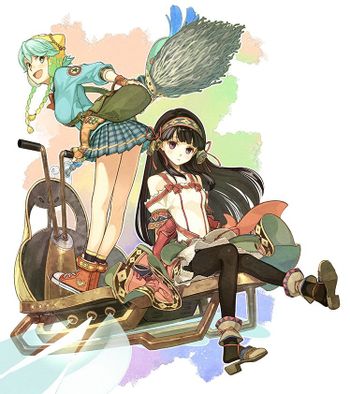 Atelier Shallie is the last entry in the Dusk Trilogy of the Atelier games on the PS3 and the 16th major game. It released in July 17, 2014 in Japan, March 10, 2015 in America, and March 13, 2015 in Europe. An Updated Re-release, Atelier Shallie Plus for Play Station Vita, adds new characters, story content, and Superbosses was released on March 3, 2016 in JP, January 17, 2017 in the US, and January 20, 2017 in Europe. Atelier Shallie DX, a re-release of the Plus version, was released December 25, 2019 in Japan for the PlayStation 4 and Nintendo Switch, with the international and Steam versions following on January 14th, 2020.
As in the previous entry, there are two playable alchemists, however, they both share the same nickname hence the title being "Shallie" to represent both of them. As with the other Atelier games, it's best described as one-part JRPG, one-part Time Management Game life simulator, three-parts Item Crafting, and a dash of Moe for flavor.
The story takes place 6 years after the beginning of Atelier Escha & Logy centered around an oasis city of Stellard on the edges of the Dusk Sea. Shallistera is an alchemist from a far away village, come to Stellard looking to find answers on the village's water supply running out. Shallotte, a native to Stellard, is going about her daily life in the town by taking menial jobs. From Shallistera's point of view, her path uncovers the mysteries that has taken place throughout the Dusk Trilogy, while Shallotte's point of view revolves around the experiences of daily life in the setting. Both eventually cross paths to work together.
The game adds a few things mechanics-wise to the series. The player chooses to play as either Shallistera or Shallotte (both who are the titular Shallie) and plays the storyline from their perspective. Both girls also have different skill sets. For instance, Shallistera can dowse for hidden items while Shallotte scrubs floors for items. The combat system has been updated as well, with the key change being the return of the Burst Mode from the Mana Khemia games. Quests and tasks are now allotted automatically in the new Life Tasks system which tailors to the player's play style.
---
Tropes that appear in Atelier Shallie: Alchemists of the Dusk Sea: