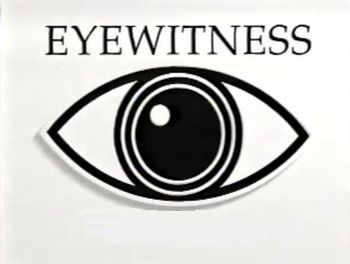 A series of nature and science documentaries by the BBC and Dorling Kindersley between 1994 and 1998, based on the book series of the same name. The series attempts to capture the minimalistic, hyperrealistic essence of the books through the use of a
plain white background
,
the "Eyewitness Museum"
, created using computer animation combined with stock footage, filmed sets, and live animals; in the series itself occasionally uses realistic elaborate sets, live (and animated) vignettes, and stock footage of relevant content shown as windows and depressions in the wall.
The series was narrated by Andrew Sachs in the UK release; the US dub was narrated by Martin Sheen for the first two seasons, with Sachs taking over for the third season, in which his original British voice was dubbed into American English. The video releases for the first two seasons include a short "The Making of Eyewitness" featurette after the episode which shows how that particular episode was created.
Not to be confused with the 2016 USA Network mystery/thriller series of the same name starring Julianne Nicholson.
---
This series contains examples of: