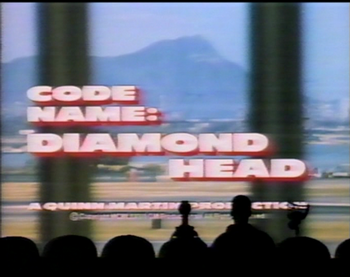 Original Work: Code Name: Diamond Head
Short: A Day at the Fair
During the host segments, Magic Voice presents the 'Bots with what life would be like if Mike were replaced with various questionable celebrities. Meanwhile, the S.O.L.'s become so dirty that it leads the Mads into a competition on who's the most hygienic.
It is available to stream here
.
The Segments:
Prologue
The Satellite of Love is a filthy, trash-ridden mess, and the crew doesn't seem to mind one bit... until they smell something especially nasty coming from Mike's shoes.
Segment 1
Dr. Forrester and TV's Frank lecture the crew on how filthy they are, and then they get into an argument on which of them is cleaner. Mike and the 'Bots take it to heart and clean the bridge up just in time for Movie Sign.
Segment 2
While Mike is away from the bridge, Crow and Tom Servo talk about how lame he is for being so nice all the time. This gets Magic Voice's attention and she tells them that they should be happy to have Mike around. To illustrate, she has Cambot run a simulation in which Mike is a big bully to them.
Segment 3
The 'Bots want to play with Mike, but he's too busy. As they complain, Magic Voice has Cambot run another simulation in which Mike is a musician and drives them crazy with his singing.
Segment 4
Mike has served sandwiches to the 'Bots for a snack. Their complaints about his cooking are once more answered by Magic Voice and Cambot as their new simulation portrays Mike as a chef and the 'Bots as his ingredients.
Segment 5
The crew unwinds with a Hawaiian luau that is more Hawaiian than anything in the movie they have just watched. The Mads are now so obsessed with outcleaning each other that they've scrubbed themselves down to the bone.
---
---