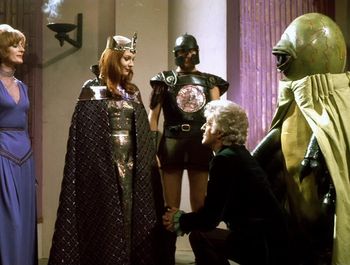 There's nothing "only" about being a girl.
— Sarah Jane Smith
The one with evil Judge Dredd.
Written by Brian Hayles. This six-episode serial first aired from March 23 to April 27, 1974.
---
The Doctor returns to Peladon, some fifty years after his first visit. King Peladon's daughter, Queen Thalira, is now in charge, advised by the inevitable Evil Chancellor, who promptly arrests the Doctor and Sarah Jane. Alpha Centauri, the squeaky-voiced octopoid from the last story, is now the Federation ambassador to Peladon, and clears the Doctor's name.
A spectral image of Aggeddor (the titular Monster, a god of Peladon) has been blamed for a number of deaths among the Trisilicate miners. The Doctor discovers that the spectral image is the work of a human engineer, Eckersley, who is working in cahoots with some renegade Ice Warriors to seize the Trisilicate deposits for a rival power bloc, Galaxy 5.
The Ice Warrior leader, Azaxyr, leads an attack on the throne room, but is killed along with his comrades when the Doctor turns Eckersley's heat ray on them. Eckersley takes the queen hostage, but the Doctor and the real Aggeddor hunt him down. Eckersley is killed, but so is Aggeddor.
Galaxy 5 surrenders to the Federation and the Queen offers the Doctor the chancellorship, but the Doctor suggests Gebek, the miners' leader.
---
"Glorious Goodwood", one of the earliest recorded audio stories of
Doctor Who
, takes place between this serial and "
Planet of the Spiders
". It was actually filmed during Jon Pertwee's soon-to-conclude tenure right before he left the role of the Doctor. However, it never made it to air and was reallocated to the shelves of the BBC Archives as an unfinished production. It was rediscovered in 2005, after Pertwee had passed, and included on
Doctor Who at the BBC: Volume 3
, a CD containing stories narrated by Elisabeth Sladen, who was still alive at the time of release.
---
Tropes
---