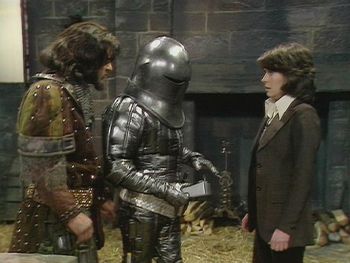 "A longshanked rascal with a mighty nose!"
— Irongron describes the Doctor
The one where Middle Age warlords meet a talking potato. Oh, and the one where we meet the woman who first etched herself on the Doctor's (and Whovians') hearts.
An intrepid investigative journalist, Sarah Jane Smith, infiltrates a secret research centre where a number of top scientists are being held in protective custody while UNIT investigates the disappearance of some of their colleagues.
The Doctor follows the trail back to The Middle Ages in the TARDIS; unbeknownst to him, Sarah Jane has stowed away on board. It seems that a robber baron called Irongron has made a deal with Linx, a Sontaran of the Sontaran Army Space Corps. Linx gives Irongron advanced weapons in exchange for time and shelter while repairing his damaged spacecraft. The kidnapped scientists are working under hypnosis to help.
The Doctor helps local lord Sir Edward of Wessex to repel an attack by Irongron's men, then drugs the food in Irongron's castle in order to remove the advanced weapons while they sleep. With the help of one of the scientists, the Doctor then sends the scientists back to the 20th century.
Linx kills Irongron and is about to leave when he is shot in the back of the neck with an arrow by Hal, one of Wessex's archers. Turns out that's the only weak spot on a Sontaran's armour - the "probic vent" - and he dies. The Doctor, Sarah and Hal escape before the ship can explode and destroy Irongron's castle.
---
An official BBC radio play by Barry Letts, "The Paradise of Death", takes place between this story and the next and stars Three, Sarah Jane and the Brigadier.
Tropes
---