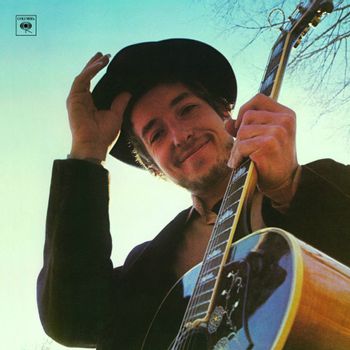 Nashville Skyline is the ninth studio album by Bob Dylan, released in 1969. A departure from his previous albums, this album sees Dylan dive in head-first into the developing country rock genre, even singing a duet with Johnny Cash on "Girl From The North Country". Not only that, this album sees a new singing style for Dylan - one that is arguably the most accessible to those who otherwise can't get into Dylan.
Upon release, it was greeted with positive reviews and did very well commercially. "Lay Lady Lay" was a big international hit and "I Threw It All Away" and "Tonight I'll Be Staying Here With You", while charting low at the time, have remained fan favourites ever since.
In a case of What Could Have Been "Lay Lady Lay" was originally supposed to appear on the soundtrack of the later Oscar winning film Midnight Cowboy from 1969, but Dylan could not submit it in time to be included in the movie.
Outtakes from the album, including an entire session of Dylan/Cash duets, were released on The Bootleg Series Vol. 15—Travelin' Thru in 2019.
---
Tracklist:
Side One
"Girl From The North Country" (3:41)
"Nashville Skyline Rag" (3:12)
"To Be Alone With You" (2:07)
"I Threw It All Away" (2:23)
"Peggy Day" (2:01)
Side Two
"Lay Lady Lay" (3:18)
"One More Night" (2:23)
"Tell Me That It Isn't True" (2:41)
"Country Pie" (1:37)
"Tonight I'll Be Staying Here With You" (3:23)
---
I Troped It All Away:
---