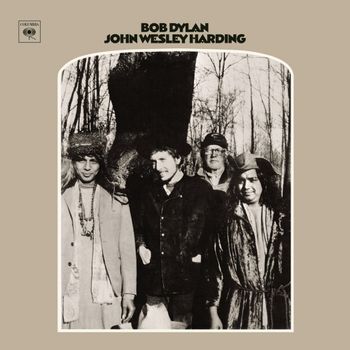 John Wesley Harding is the seventh studio album by Bob Dylan, released in 1967. His first studio album released since Blonde on Blonde, the tumultuous world tour, his mysterious motorcycle accident in July 1966, and following 10-Minute Retirement, it's yet another departure from anything he'd released earlier, stripping back the music of his electric albums to acoustic guitar, harmonica, bass and drums, and with concise, ambiguous lyrics containing neither the directness of his Protest Song phase or the wild-grown surrealism of his mid-60's output. (He'd spent the summer recording and writing The Basement Tapes with The Band, but those recordings wouldn't be publicly released for years).
It's probably best known today for the single "All Along The Watchtower", which would quickly be Covered Up by The Jimi Hendrix Experience on their album Electric Ladyland to the extent that most of Dylan's various live versions through the years resemble the Experience's version of the song far more than his own.
John Wesley Harding came in at #303 in Rolling Stone's Rolling Stone: 500 Greatest Albums of All Time.
---
Tracklist:
Side One
"John Wesley Harding" (2:58)
"As I Went Out One Morning" (2:49)
"I Dreamed I Saw St. Augustine" (3:53)
"All Along The Watchtower" (2:31)
"The Ballad Of Frankie Lee And Judas Priest" (5:35)
"Drifter's Escape" (2:52)
Side Two
"Dear Landlord" (3:16)
"I Am A Lonesome Hobo" (3:19)
"I Pity The Poor Immigrant" (4:12)
"The Wicked Messenger" (2:02)
"Down Along The Cove" (2:23)
"I'll Be Your Baby Tonight" (2:34)
---
If you cannot bring good tropes, then don't bring any:
---