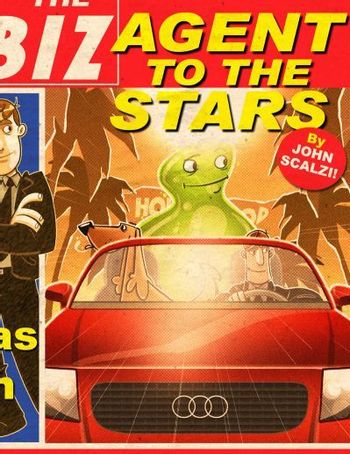 Agent to the Stars
is a 2005 science fiction novel by
John Scalzi
.
Tom Stein is a rising star in a major Hollywood talent agency. One day, after securing a $12.5 million movie deal for his A-list client Michelle Beck, he's called into a meeting by his boss Carl Lupo. Carl introduces him to a blob-like alien named Joshua and explains that Joshua's people, the Yherajk, have traveled for many decades in their asteroid-turned-ship to initiate First Contact with humanity.
Unfortunately, after arriving and picking up on the latest media transmissions, they have realized that, to humans, they would appear as typical Blob Monsters despite their peaceful nature (the fact that they normally communicate via awful odors doesn't help). So, instead of going with the typical Take Me to Your Leader tactic, they have chosen to, first, hire a human agent to prepare humanity for the contact.
Since Carl is a well-known figure in Hollywood circles, he asks Tom to take on the entire Yherajk race as his clients. Carl also wants Joshua to move in with Tom for the time being. So, while trying to figure out how to make an unattractive alien race presentable to humanity, Tom has to keep a bored alien hidden from everyone else, fend off an annoying reporter, and keep his other clients (namely, Michelle Beck) happy. Cue hilarity.
The novel is freely available on the author's blog, here
.
---
The novel contains examples of the following tropes: