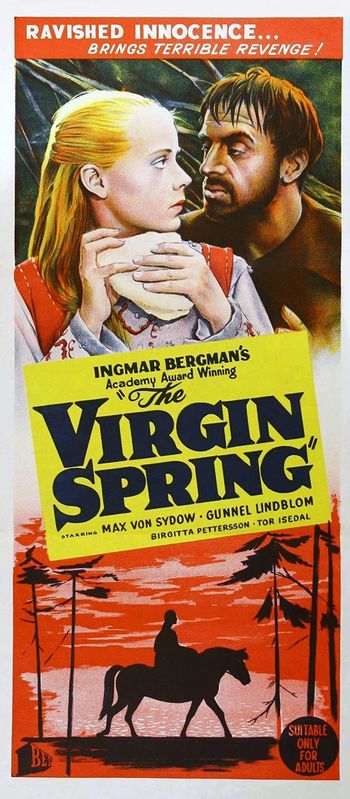 "Bring me the slaughtering-knife."
The Virgin Spring (Jungfrukällan) is a 1960 Swedish film directed by Ingmar Bergman and starring Max von Sydow. It is partly based on the Swedish medieval ballad ''Töre's daughters in Vänge''
. Von Sydow is Töre, a prosperous 14th century Christian farmer who sends his innocent virgin daughter Karin (Birgitta Pettersson) off to carry candles to church for matins. Accompanying her is Ingeri (Gunnel Lindblom) the servant girl, who is heavily pregnant. Ingeri is a secret pagan, and she resents Karin so much that she prays to Odin to bring a curse down upon Karin.
Ingeri and Karin have an argument on the way and part. Ingeri enters the cabin of a mysterious old man, who shows her pagan sacrifices he has made, speaks of "three dead men riding north", and promises to give her strength. He makes obvious sexual advances towards her, and she flees in terror.
Meanwhile, Karin encounters three shepherds, two adults and a boy. They have a pleasant picnic together, until the mood darkens, the two adult shepherds turn mean, and they rape her. One of the rapists then bashes Karin in the head with a club, killing her. The two shepherds take Karin's possessions and strip the fine silk dress from her body before heading south. They then stop to take shelter—at Töre's farm.
The Virgin Spring was written by Ulla Isaksson (who was specialized in medieval history), and thus is one of the few Ingmar Bergman films that Bergman did not write as well as direct. It won the Academy Award for Best Foreign Language Film. Twelve years later, it was remade by Wes Craven, with a lot more blood and gore, as The Last House on the Left.
---
Provides examples of: