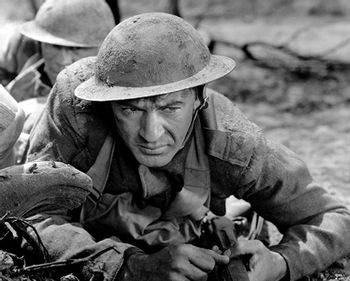 Sergeant York is a 1941 film Based on a True Story, directed by Howard Hawks and starring Gary Cooper.
It tells the mostly true story of Alvin C. York, a farmer from the Appalachian mountains of Tennessee. Alvin is a hard drinker and a hell-raiser, but he converts to Christianity, abandons his wild ways, and becomes a pacifist. When the United States declared war on Germany, entering World War I, York applied for conscientious objector status, citing his religious beliefs. York's application was denied, and he was drafted into the infantry—where he became a Medal of Honor winner for his actions in combat, one of the most decorated American soldiers to ever live.
Sergeant York was a massive success and a career highlight for both Hawks and Cooper. It was nominated for eleven Oscars and won two, including the first of Cooper's two Best Actor awards.
---
Tropes:
---