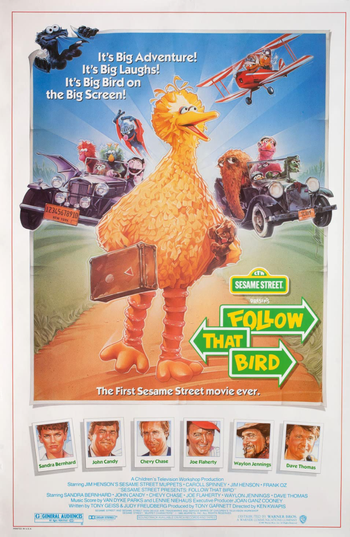 Floyd: You're the biggest chicken I've ever seen.
Big Bird: Oh, I'm not a chicken actually. I'm a bird on the run.
Ruthie: Oh yeah. Floyd, he's the bird on TV who ran away.
Big Bird: Oh, I didn't run away. I'm going back to my real home on Sesame Street where I belong."
Sesame Street Presents: Follow That Bird is a 1985 family adventure film directed by Ken Kwapis and released by Warner Bros., bringing the beloved Edutainment series Sesame Street to the big screen for the first time.
Big Bird is sent to live with a bird family, at the insistence of Miss Finch, an agent working for The Feathered Friends, an organization that places "stray birds" into foster families. Big Bird is keen on the idea of having his own bird family at first, but when he sees that he's not really fitting in with the Dodo family (their disapproval of his friendship with Mr. Snuffleupagus being the final straw), Big Bird runs away to return to his real home on Sesame Street. When the news of this spreads, the Sesame Street gang sets out in search of him.
Along the way, however, Big Bird is also being pursued by Miss Finch, who is determined to send Big Bird back to the Dodos, and Sam and Sid Sleaze, a pair of brothers who run a crooked circus. Sam, the more corrupt of the two, decides to capture Big Bird and make him their main attraction.
Follow That Bird is one of several travel/road comedy movies of the 1980s, but proves to be a favorite among Muppet fans and families alike, with its engaging plot, fun songs, and classic character antics from favorites like Ernie and Bert, Oscar the Grouch, Cookie Monster, and even Kermit the Frog, among others.
---
This film provides examples of:
---