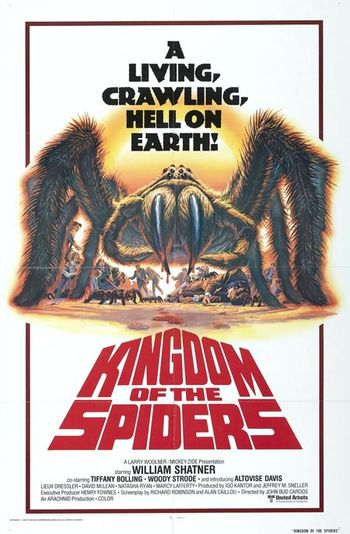 You could be the next victim!
A 1977 horror film starring William Shatner, Tiffany Bolling and Woody Strode, in which hordes of tarantulas begin swarming and attacking the residents of a small Arizona town after their natural food supplies give out. Perhaps most remembered today for the gruesome spider-victim FX, and the bizarre but not-exactly-a-twist ending. Shatner is also notable for one of those rare times when he actually makes an effort in the acting department, playing a flawed and even somewhat multifaceted character.
Now available as a RiffTrax video on demand download. Watch the DVD trailer here
.
---
This film contains examples of:
Accidental Misnaming: Terry calls Rack John accidentally, which Rack doesn't take kindly as it's the name of his deceased brother.
Artistic License – Biology: Where to begin? Tarantulas do not spin webs, for one. Even in large numbers, the venom of a tarantula is extremely mild to humans and large mammals.
Asshole Victim: Implied to be the fate of the mayor, since by the end it is pretty clear no one made it out of the town alive, and it seems unlikely he'd miss the chance to attend the county fair.
Downer Ending:

The tarantulas have managed to wipe out most of the town, and it's implied that other species of spiders have joined in, encasing the entire town in webs. The survivors are probably going to die, and the outside world is completely unaware, with the implication that the spiders' attacks are going to spread to the outside world.

Dropped a Bridge on Him: Or a water tower, on Sheriff Smith's case. His death is so abrupt one would be forgiven for missing it.
Somewhere, an Entomologist Is Crying: Both the spiders' aggressiveness and sudden boost in venom potency is blamed on the reaction to their food supply being cut off by human encroachment on their habitat. Somehow the lack of food made the spiders (only the tarantulas, mind you) more venomous, more aggressive and more numerous. Oh, and tarantulas don't use webs to catch food. They hunt. And, in the case of lack of food, would sooner turn on each other than try and tackle something even the size of a dog, let alone humans or livestock.
Spider Swarm: The entire premise of the film is the fact that the use of DDT has caused spiders to do this and swarm a town.
---