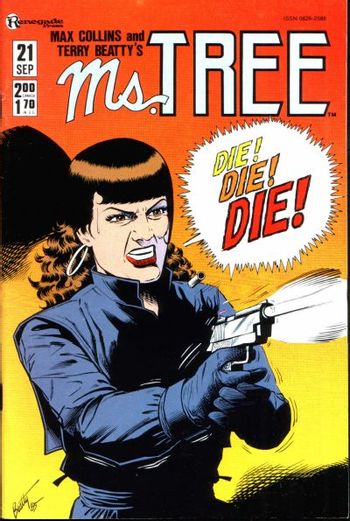 Ms. Tree was the best-known comic book creation of author Max Allan Collins prior to his graphic novel, Road to Perdition. Terry Beatty was the series' artist. The character first appeared in Eclipse Magazine #1 (May, 1981), the debut publication of Eclipse Enterprises. Subsequent appearances in anthology comics were deemed successful enough, resulting in the ongoing series Ms. Tree's Thrilling Detective Adventures, later shortened to Ms. Tree. While there were a couple of changes in publisher, said series lasted for 50 issues (February, 1983-July, 1989). The character was then revived in Ms. Tree Quarterly by DC Comics, which run for 10 issues (Summer, 1990- Spring, 1993). The paperback novel Deadly Beloved followed in 2007. The character hasn't seen recent use in her original medium.
The title character is Michael Tree, a female private detective who takes over her husband's investigation business when he is murdered. In her first case, she captures the murderer and discovers his link to the Muerta organized crime family.
Ms. Tree's dead husband was named Michael Tree, the joke being that after the marriage they had the same name. Series creator/writer Max Allan Collins makes no secret of the fact that Ms. Tree was inspired by Velda, Mike Hammer's secretary, a stacked, gun-carrying, 6-foot-tall brunette and Mike's lover, who was almost as tough as he was. The basic premise of Ms. Tree was, "What if Velda and Mike Hammer eventually got married, and on their honeymoon he was murdered?"
Throughout the series, in addition to isolated cases, Ms. Tree's vendetta against the Muerta family is a major plot thread. Her methods often include deadly violence which she uses with little hesitation. In contrast to genre conventions, she faces serious consequences throughout the series for these violent actions including arrest, imprisonment, commitment to a mental hospital, and involuntary medication.
In another genre divergence, the male Michael Tree's son, Mike (of course), inadvertently falls in love with the daughter of the Muerta matron. The female Michael disapproves of this arrangement but respects her stepson's decision. To her shock, when their relationship grows enough to make marriage probable, the Muerta family decides Mike's stepmother is now family and initiates a reconciliation with her while going legit.
In addition, the female Michael is impregnated by an old flame who is manipulating her to kill his wife. She decides to keep the baby, creating a unique series of adventures of this homicidal PI fighting off criminals even while dealing with a full term pregnancy while the mob family she hates moves to protect her in their own way.
---
The series contains examples of:
Private Tutor: Michael hires Mr. Hand to act as a private tutor to her stepson Mike, Jr. A former SAS trooper is a Battle Butler who doubles as Mike, Jr.'s bodyguard.
Punny Name:

Ms.Tree. Mystery. Get it?
Many of the early characters had these; a carry over from Collins' time as writer of the Dick Tracy strip.
Star-Crossed Lovers: Michael's son and the Muerta girl. Subverted in that Michael, although of course doesn't care for this development, she considers it purely the kids' affair and does not try to keep them apart. Furthermore, she is Genre Savvy enough to know doing so would only encourage their love and notes with a smile to the girl's mother and crime boss that she should have just let the relationship run its course instead of packing her off to a foreign school to keep the kids separated.
Traffic Warden: Michael originally worked as a parking attendant who met her future husband when she ticketed him. Furthermore, she was frustrated enough being relegated to that position that she accepted his offer to work for him instead.
---