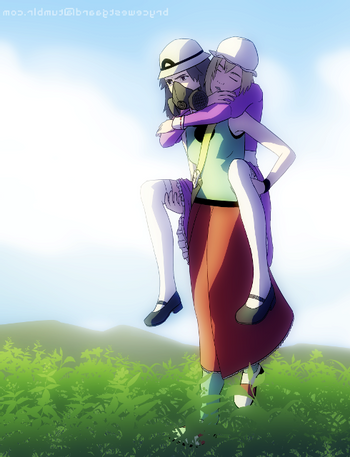 Twitch Plays Pokémon (TPP) is a series of social experiments in which commands representing buttons on an original Game Boy Advance (up, down, left, right, A, B, L, R, start, and select) are entered into a chat on Twitch, and then translated into a game of Pokémon via an IRC bot. In short, hundreds of people are fighting over a controller. Throughout its life, Twitch Plays Pokémon has spawned hilarious characters, memorable moments, and even a few religions.
Twitch Plays Touhoumon & Moemon, the second run of the second season, introduces a brand new way to play Pokemon games on the stream. For the first time ever, the stream plays two games at the same time, those being Touhou Puppet Play Enhanced 1.8note An enhanced port of the original Touhoumon 1.8 done by Aichiya Sanae and Moemon FireRed, using a shared series of inputs. The former featured AAABBHM and her team of "Bonéka", living puppets designed after characters of the Touhou Project franchise, while the latter featured AAtatat in a world populated by gijinkas desigend after the original 151 Pokémon.
The run began at 12:00 PM GMT on May 10th, 2015, coincidentally the same day that Reitaisai 12
began and Touhou Shinpiroku ~ Urban Legend in Limbo was released. Both runs ended on May 24, 2015, with Moemon finishing first, about twelve hours earlier than Touhoumon.
Touhoumon was revisited as an intermission during Twitch Plays Pokémon: The Gauntlet, from March 18th, 2020, to March 23rd, 2020, allowing AAABBHM to explore and obtain the badges of the post-game region of Johto. During that time, many old memes were brought back, and new ones were born.
See also here
for the archived status of the Touhoumon run, here
for the archived status of the Moemon run, or here
for live updates, which have been archived here
. There is also a recap page, found here.
---
Twitch Plays Touhoumon and Moemon contains examples of:
---