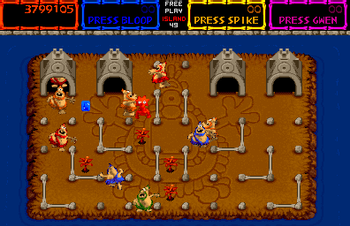 It's survival of the fastest in the prehistoric land of Og. That crazy, one-eyed caveman, the Trog, is hungry... and dinos Spike and Bloop know what that means: RUN FOR YOUR LIVES!
—NES box
Trog is a 1990 video game developed by Bally/Midway originally for the arcades and later ported to both the NES and DOS. Set in a time where cavemen lived alongside dinosaurs, up to four players can play one of four dinos: Rex, Spike, Bloop, and Gwen. The ports reduce you to just two of the dinos, Spike and Bloop.
Like Pac-Man, your mission is to clear the screen. You must collect all the colored eggs you can while avoiding the "Trogs", vicious one-eyed cavemen that would love to eat fresh dinosaur for lunch. (The name is derived from "troglodyte", an older word for caveman and the scientific name for chimpanzees.) Once you collect all the eggs, you have to make it to the exit, labelled "Home", in order to advance to the next screen. In a multiplayer game, the first player to make it off the screen gets bonus points and a brief victory animation.
Unlike Pac-Man, your dinos are not completely helpless without a power-up.note This becomes crucial on the last screen, where you face a Zerg Rush of Trogs and have to beat most of them without power-ups. You can punch the Trogs at any time (it takes three hits to knock a Trog off the screen). As for power-up items, you can collect horseshoes that give you temporary invulnerability; red flowers that raise your speed; ice cubes that freeze all on-screen Trogs and enable you to punch them off the screen with a single punch; pineapples, which turn the character into a full-grown T-Rex that can temporarily eat his enemies (like Pac-Man's Power pellets), and a chili pepper which gives you temporary fire breathing power. Mushrooms should be avoided as they will decrease your speed.
The Trogs aren't your only worry. Hazards can kill you such as wheels, fire, pits, and tar; however these hazards can also affect the Trogs. If you're not careful, you can also walk off the edge of the play area and die. Later levels contain teleporters and catapults, which you can use to get around the playing area...and the Trogs can use them too.
---
This game contains examples of the following tropes:
---