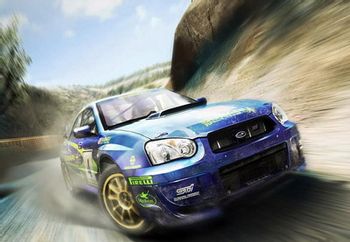 A series of critically acclaimed and commercially successful rally racing Simulation Games, created and published by British game developer Codemasters. Named after famous 1990s Scottish rally driver
Colin "The Flying Scotsman" McRae, the legendary winner of the 1995 World Rally Championship. McRae personally provided feedback and technical know-how to the developers. His co-drivers, Nicky Grist and Derek Ringer, provided voice acting of themselves for the entire series.
Each game is a semi-realistic rally simulator, so though there are some arcade-ish elements, the general tone of the games requires players to beat rally stages using a relatively professional driving style. The series is notable for pioneering a destruction and physics model in racing games. Damage received in a race is taken into account and players have to repair their rally car regularly in a service area, after every two stages. In addition, service areas also offer a generous array of options for tuning a car's technical specs, to give better performance on upcoming stages. Weather conditions are also an important factor, and at least two of the installments featured randomly generated and dynamically changing weather. Whilst not the first realistic rally simulationnote Similar games with an emphasis on the actual rules and mechanics of rallying have existed before, such as Lombard RAC Rally, Colin McRae Rally was one of the first to gain mainstream reception — Codemasters initially had some reservations on whether a game more closely based on the sport would sell with audiences, as rally games for consoles at the time were nothing more than head-to-head racing games with a "rally" theme tacked on to itnote Though interestingly, such events do exist in Real Life in the form of Rallycross, which are closed-circuit races with cars similar to those used by the World Rally Championship. The Sequel Series DiRT later adopted this as their game mode from their second entry onwards., but eventually went ahead when initial playtesting of an early prototype build was met with enthusiatic reception from the development team.
The series spanned 6 games under this name:
Colin McRae Rally (1998)
Colin McRae Rally 2.0 (2000)
Colin McRae Rally 3 (2003)
Colin McRae Rally 04 (2004)
Colin McRae Rally 2005 (2005)
Colin McRae Rally (iOS / Android, 2013)
For the Sequel Series, see DiRT.
---
This game series provides examples of :
---