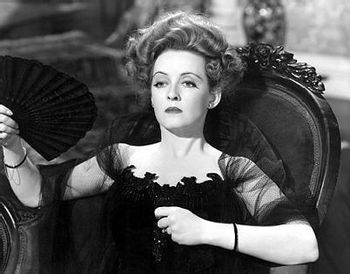 "Addie said there were people who ate the earth and those that stood around and watched them do it. And just then Uncle Ben said the same thing. Really the same thing. Tell him from me, Mama, I'm not going to watch you do it."
— Alexandra Giddens
The Little Foxes is a 1939 play by Lillian Hellman.
The Hubbards are a Big, Screwed-Up Family in a small town somewhere in the Deep South. Brothers Oscar and Ben Hubbard are selfish and greedy. Oscar mentally and physically abuses his broken-down wife, Birdie; their son, Leo, is shiftless and lazy. Oscar and Ben's sister, Regina, was left out of their father's inheritance because she's a woman, so at some point in the backstory she married Horace Giddens, a local businessman. Horace has done well for himself but his marriage with Regina has long since curdled into mutual hatred. The only thing they have in common is their daughter, Alexandra, who is honorable and decent like her father instead of mean and greedy like her mother and her mother's family.
The Hubbards have hit upon a new business opportunity: namely, the construction of a cotton mill in town. All three of the Hubbard siblings desperately want the deal, which will make them a lot richer than they already are. However, the brothers need Regina's support, and she doesn't control the family finances—and her husband Horace is not that eager to fund the construction of a cotton mill that will enrich the Hubbards by exploiting the cheap labor available in the town.
In 1941 it was adapted into a feature film directed by William Wyler, starring Bette Davis as Regina, Herbert Marshall as Horace, and Teresa Wright in her film debut as Alexandra. Four actors—Dan Duryea, Charles Dingle, Carl Benton Reid, and Patricia Collinge—reprised their roles from the stage play. Lillian Hellman adapted her own play for the screen.
A 1951 operatic adaptation of the play, Regina, was written by Marc Blitzstein.
---
Tropes: