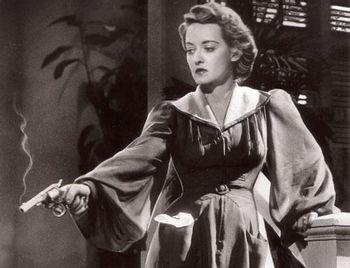 The Letter began life as a short story by W. Somerset Maugham, published in 1926. In 1927 it was made into a play, also written by Maugham. It was then twice adapted into films: an early talkie in 1929, starring stage actress Jeanne Eagels, and a 1940 adaptation by director William Wyler starring Bette Davis.
Leslie Crosbie, the wife of Howard Crosbie, who manages a rubber plantation in Malaya, puts six bullets into one Geoffrey Hammond, when he visits her house. Mrs. Crosbie insists that Hammond, a friend of the family, had come to the house uninvited and attempted to rape her. Everyone believes her, and it seems that she will win an easy acquittal at the ensuing trial, until Howard Joyce, her attorney, receives a disurbing message from his Chinese assistant. It seems that Hammond's lover (in the 1929 film) or wife (in the 1940 film) is in possession of a letter that indicates that Hammond came to the house at Mrs. Crosbie's invitation, and that in fact they were lovers.
Both film versions earned Academy Award nominations for their lead actresses, Eagels and Davis. Eagels, who died of a drug overdose not long after The Letter was released, remains the only person in history to receive a posthumous nomination for Best Actress.
---
Tropes: