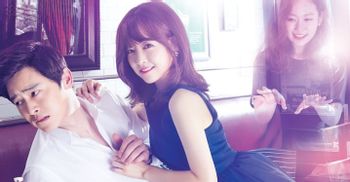 Oh My Ghostess
(also known as
Oh My Ghost
or 오 나의 귀신님) is a 2015
Korean Drama
that focuses on Na Bong Sun, a shy apprentice chef. Because of her timid personality and low self-esteem, she doesn't have any friends. Since she was a child, she has been able to see ghosts because of the ability was passed down to her from her shaman grandmother. One day, she becomes possessed by the mischievous and bubbly ghost, Shin Soon Ae, who believes she hasn't been able to pass on to the afterlife because she died a virgin.
Kang Sun Woo is a star chef, and Bong Sun's boss, who she has a secret crush on. He's handsome and confident as a chef, but is also curt and an strict perfectionist. Even though he's popular with women, he has yet to completely forget his ex-girlfriend or his difficult childhood. He begins to notice Na Bong Sun when she begins, while being possessed by Shin Soon Ae, to flirt with him and act vivacious and outgoing.
Not to be confused with Ah! My Goddess.
---
Tropes: