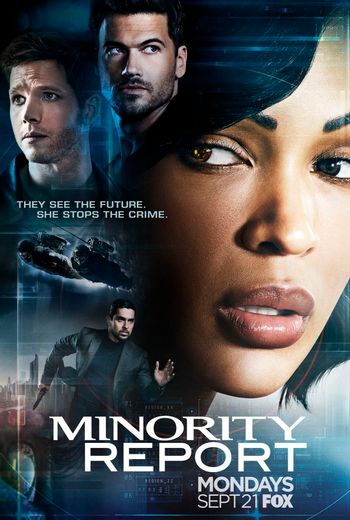 Dash: Can...you...see?
Vega: See what?
Dash: Murder.
Minority Report is a 2015 sci-fi Police Procedural airing on Fox. It is also a Sequel Series to the film of the same name, which told the story of the Precogs - psychic siblings who could see visions of future murders. Used by Pre-Crime, they prevented almost every murder for years until an internal conspiracy revealed the flaws in the system. The Pre-Crime unit was shut down, and the Precogs released to the outside world and away from the public eye.
In 2065 Washington, D.C., eleven years after the events of the 2002 film, Precog Dash (Stark Sands) has grown distressed over still seeing murders. Setting out on his own he has attempted to stop them, but as the weakest of the three he lacks important info that his twin brother Arthur (Nick Zano) could see. After his latest failure he runs into Detective Lara Vega (Meagan Good) and, after she pieces together his past, the two team up to stop crimes before they happen. But Dash's fellow-Precog Agatha (Laura Regan) has foreseen that this partnership will only end in disaster.
---
This series contains examples of:
---