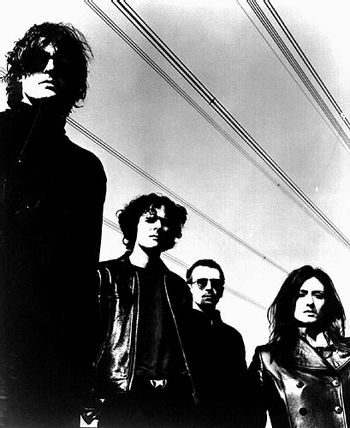 Lay back in the sun
Good dope good fun
"Lay Back in the Sun"
Makes me feel so good, makes me fucked up inside
"Medication"
Spiritualized is best described as what happens when a psychedelic space-rock musician who loves soul and gospel music writes a ton of songs about life and love and using drugs to cope with it all.
Spiritualized were formed by guitarist/vocalist Jason "J. Spaceman" Pierce in 1990 after the breakup of his old band, Spacemen 3. Ever since then he has been the only constant member and principal songwriter, supported by a revolving door's worth of musicians that have included over the years:
Kate Radley - vocals, keyboards, half of a Creator Couple (1990-1997)
Tim Lewis ("Thighpaulsandra") - keyboards (1997-2008)
Tom Edwards - keyboards (1999-present)
Mark Refoy - guitar (1990-1994)note
Mike Mooney - guitar (1995-1999)
Gregg Hale - guitar (1997-1998)
John Coxon - guitar (1994-1997, 1999-present)note
Tony Foster ("Doggen") - guitar (1999-present)
Will Carruthers - bass (1990-1992)
Sean Cook - bass, harmonica, keyboards (1992-1999)
Martin Schellard - bass (1999-2003)
Richard Warren - bass (2003-2008)
Sam Freeman - bass (2008-2009)
Thomas Wayne - bass (2009-present)
Jonny Mattock - drums (1990-1994)note
Damon Reece - drums (1995-1999)
Kevin Bales - drums (1999-present)
Ray Dickaty - saxophone (1997-2003)
Spiritualized's early career, despite being plagued by unstable lineups and Jason taking almost two years to mix their debut album, resulted in two critically acclaimed albums, Lazer Guided Melodies (1992) and Pure Phase (1995). These established Spiritualized's characteristic elements:
spacey, lushly produced Psychedelic Rock with a heavy Shoegazing influence
using lots of drones, tremolo and repetition to achieve a hypnotic effect
some chemically-themed lyrics.
Their third album, Ladies and Gentlemen We Are Floating in Space (1997) is widely regarded as their masterpiece. Here, Jason injected influences from soul, gospel and blues music into his psychedelic blueprint and dialed up the lush production (Phil Spector and Brian Wilson were cited as influences increasingly loudly around this time). He was rewarded with universal critical acclaim and respectable commercial success, Floating in Space reaching #4 on the UK charts. Notably, the album won the NME's Album of the Year award versus Radiohead's OK Computer.
After touring in support of Floating in Space, Spiritualized's current lineup disintegrated. Vocalist/keyboardist/Jason's girlfriend Kate Radley left before the tour began as a result of a complicated Love Triangle between her, Pierce and The Verve frontman Richard Ashcroft. Band members Cook, Reece and Mooney also butted heads with Pierce over poor salaries and other payment issues. In 1999, Pierce responded by drawing up new employment contracts and then using them to fire Cook, Reece and Mooney, a move that triggered surprise and controversy among the press. The three went on to form their own band, Lupine Howl.
A new lineup was unveiled, with Tim "Thighpaulsandra" Lewis on keyboards, Tony "Doggen" Foster on guitars, Martin Schellard on bass and Kevin Bales on drums. The band's next album, Let It Come Down (2001), took four years to create - Pierce's musical illiteracy required him to sing all the orchestral parts into a tape recorder and then transcribe them onto a piano. Come Down took Floating in Space's sound Up to Eleven, employing 115 session musicians which included an orchestra and the London Community Gospel Choir. Come Down also stripped the space rock, psychedelic rock and shoegazing influences form previous albums, doing away with drones, tremolo and free-jazz freakouts in favour of creating an orchestral, baroque pop album with an even heavier Phil Spector influence. Despite the generally positive reception, some critics commented that the album's excessively dense, ornate sound harmed the songs.
Pierce promised to avoid the arduous recording sessions and complex orchestrations of Come Down for the next album, Amazing Grace (2003). He delivered on his promise, recording it in a total of 3 weeks using a more stripped-down production style and a heavier garage rock influence while continuing to draw from gospel music. Reception was mixed to say the least. Notably, this was their last album on their long-term label Dedicated Records, since it was sold off afterwards.
Pierce fell severely ill with severe pneumonia in July 2005 and almost died, spending a long period in hospital undergoing treatment. This near-death experience provided the impetus for the bleak Songs in A&E (2008), which was released on Sanctuary Records in the UK and Fontana International in the USA. Ironically/scarily enough, most of the songs were written before said near-death experience. A&E saw Pierce return to his more expansive Floating in Space sound, but with the psychedelic elements still AWOL, replaced by heavy garage rock and gospel influences, though the free-jazz freakouts reappeared on a few tracks.
The band releases their next album Sweet Heart Sweet Light in April 2012 on Double Six Records, some of its material having already been played live beforehand. Pierce said that it was partly inspired by the experiences of performing Ladies and Gentlemen We Are Floating in Space live in its entirety, and that it aimed to embrace more poppy material compared to their previous releases. In 2018, the album And Nothing Hurt was released complete with Pierce stating that it's the final Spiritualized album, owing to the arduous, largely solitary recording process. However, in 2021, Pierce went back on this decision and announced a new album, Everything Was Beautiful, set to release in early 2022.
Albums
1992 - Lazer Guided Melodies
1995 - Pure Phase
1997 - Ladies and Gentlemen We Are Floating in Space
2001 - Let It Come Down
2003 - Amazing Grace
2008 - Songs in A&E
2012 - Sweet Heart Sweet Light
2018 - And Nothing Hurt
2022 - Everything Was Beautiful
Other releases
1990 - Anyway That You Want Me EP (first Spiritualized release)
1991 - Feel So Sad EP
1991 - Run/I Want You EP
1991 - Smiles/Sway EPnote
1992 - Medication EP
1993 - Fucked Up Inside (live album)
1993 - Good Dope, Good Fun singlenote
1993 - Electric Mainline EP
1996 - Pure Phase Tones for DJsnote
1997 - Supplementary Dosage EP (US promo EP)
1998 - Abbey Road EP
1998 - Royal Albert Hall October 10, 1997 (live album)
2003-2004 - The Complete Works volumes 1 and 2 (compilation)
Spiritualized uses the following tropes:
---