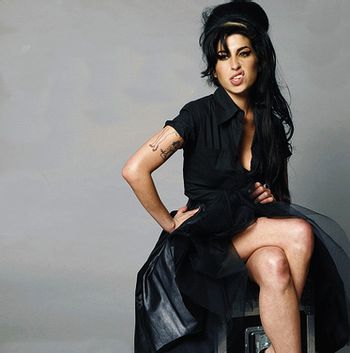 "I've come to the realization that life is short, you know, gotta live in the moment, you've got to seize the day."
Amy Jade Winehouse (September 14, 1983 – July 23, 2011) was an English singer-songwriter known for her deep contralto vocals and her music's eclectic mix of soul, R&B and jazz.
Winehouse's two studio albums, Frank and Back to Black, both received critical acclaim, and Back to Black won five Grammy Awards, making her the first-ever British artist to win that many. She also won a number of other prestigious awards throughout her career, including 3 Ivor Novello awards, a Mobo award, a world music award, a Q music award, an MTV Europe Music Award, and a Brit award.
Both of her albums spun off several hit singles; she had 15 charted singles in total throughout her career spanning only nine years, including many covers and collaborations with artists such as Tony Bennett and Quincy Jones. Back to Black would eventually become the best-selling album of the 2000s and the entire 21st century in the United Kingdom, but also enjoyed considerable mainstream success abroad, including all over Europe, Australia, New Zealand, Brazil, Japan, and America.
Winehouse would go on to influence many subsequent female singers of the 2000s, with the likes of Adele, Jessie J, Paloma Faith, Duffy, Florence Welch, Emeli Sandé, Lana Del Rey, and Lady Gaga citing her as a big influence as well as a reason for their success. She is credited by many as an influence in the rise of popularity of the eccentric female singer-songwriter all over the world, revitalising soul music and the stagnated British music scene, and also for kicking off a third British Invasion.
In the later years of her life, she also attempted to launch the career of her goddaughter Dionne Bromfield, whom she was also a mentor and best friend of.
Winehouse also had a myriad of personal problems, however, including alcoholism, drug abuse and depression, which made her a tabloid magnet and ruined her marriage. She was working on a third album when she was found dead in her London flat
on July 23, 2011 (the reported cause being alcohol poisoning), joining a long line of musicians that died at the age of 27.
Following her death, her father set up a charity called The Amy Winehouse Foundation in her honour to help those affected with alcoholism and other drug addictions around the world.
Her story is told in the 2015 Rockumentary Amy.
---
Discography:
Frank (2003)
Back to Black (2006)
Lioness: Hidden Treasures (Posthumous compilation album) (2011)
---
Tropes related to Amy Winehouse:
---