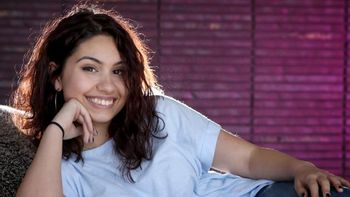 And I know you mean only the best
And your intentions aren't to bother me
But honestly I'd rather be
Somewhere with my people, we can kick it and just listen
To some music with a message, like we usually do
And we'll discuss our big dreams
How we plan to take over the planet
So pardon my manners, I hope you'll understand
That I'll be here
—"Here"
Alessia Caracciolo (born July 11, 1996), better-known as Alessia Cara, is a Canadian singer-songwriter. She is currently best-known for her Sleeper Hit debut single "Here", which has been dubbed a wallflower anthem. She released an EP, Four Pink Walls, on August 26, 2015, with her debut album, Know-It-All releasing on November 13, 2015. In 2016, she was tapped to sing the credits version of "How Far I'll Go" from Moana. In 2020, she made her acting debut as Jane in the Netflix animated film The Willoughbys; she sings that movie's theme, "I Choose", as well.
Discography
Four Pink Walls (EP) (2015)
Know-It-All (2015)
The Pains of Growing (2018)
This Summer (EP) (2019)
This Summer: Live Off The Floor (EP) (2020)
In the Meantime (2021)
---
I ask myself what am I troping here?
---