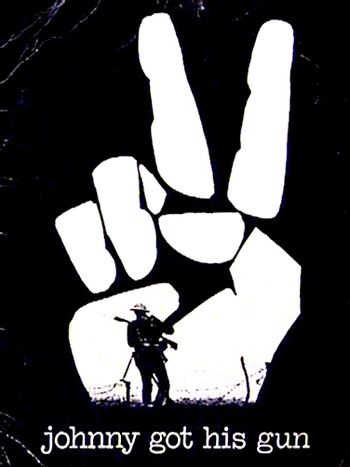 "There's nothing noble about dying. Not even if you die for honor. Not even if you die the greatest hero the world ever saw. Not even if you're so great your name will never be forgotten and who's that great? The most important thing is your life, little guys. You're worth nothing dead except for speeches. Don't let them kid you any more. Pay no attention when they tap you on the shoulder and say come along we've got to fight for liberty, or whatever their word is. There's always a word."
A 1938 novel by Dalton Trumbo that became a rallying point for the political left after World War II. It follows a young man named Joe Bonham, who, after becoming grievously injured during World War I, is left deaf, blind, dumb, and without any limbs. Throughout the book, Joe reminisces about the life he lost, waxes philosophical on war and conscription, and tries desperately to communicate with the doctors keeping him alive.
A film version was written and directed by Trumbo himself in 1971 and starring Timothy Bottoms as Joe, Jason Robards as his father, and Donald Sutherland as Jesus Christ (as dreamed or imagined by Joe). The screenplay stayed fairly close to the source material but with new scenes added (we see more of what's going on around Joe in the hospital, for instance). The film was reintroduced to the mainstream in the late 1980s when clips from it were featured in the music video for "One" by Metallica, who later bought the film's rights in order to re-publish the video without paying royalty fees.
---
This work provides examples of:
And I Must Scream: Joe, in fact, tries to scream when he realizes what happened to him, but is unable.
Armies Are Evil: A nurse realizes that Joe is banging his head against the headstand in Morse Code. But she doesn't know Morse. So she brings in an officer to translate. When the officer realizes that Joe is asking to be either displayed as a monument to the horrors of war or permitted to die, his response is simply "What you ask is against regulations."

Officer: Don't you have some sort of message for him, Padre? You could at least tell him to put his faith in God, couldn't you?

Priest: I will pray for him the rest of my days, but I will not risk testing his faith against your stupidity.

Priest: He's a product of your profession, not mine.
---