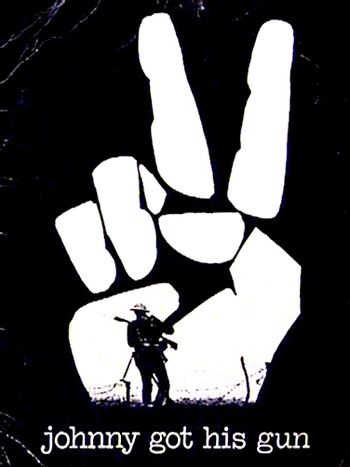 "There's nothing noble about dying. Not even if you die for honor. Not even if you die the greatest hero the world ever saw. Not even if you're so great your name will never be forgotten and who's that great? The most important thing is your life, little guys. You're worth nothing dead except for speeches. Don't let them kid you any more. Pay no attention when they tap you on the shoulder and say come along we've got to fight for liberty, or whatever their word is. There's always a word."
A 1938 novel by Dalton Trumbo that became a rallying point for the political left after World War II. It follows a young man named Joe Bonham, who, after becoming grievously injured during World War I, is left deaf, blind, dumb, and without any limbs. Throughout the book, Joe reminisces about the life he lost, waxes philosophical on war and conscription, and tries desperately to communicate with the doctors keeping him alive.
A film version was written and directed by Trumbo himself in 1971, staying fairly close to the source material but with new scenes added (we see more of what's going on around Joe in the hospital, for instance). Metallica later bought the rights to the movie so they could use clips of it for the music video to the song "One" (based on the book).
---
This work provides examples of:
And I Must Scream: Joe, in fact, tries to scream when he realizes what happened to him, but is unable.
Armies Are Evil: A nurse realizes that Joe is banging his head against the headstand in Morse Code. But she doesn't know Morse. So she brings in an officer to translate. When the officer realizes that Joe is asking to be either displayed as a monument to the horrors of war or permitted to die, his response is simply "What you ask is against regulations."

Officer: Don't you have some sort of message for him, Padre? You could at least tell him to put his faith in God, couldn't you?

Priest: I will pray for him the rest of my days, but I will not risk testing his faith against your stupidity.

Priest: He's a product of your profession, not mine.
Based on a True Story:

Trumbo claims he came up with the idea for Johnny Got His Gun after reading an article about the Prince of Wales's visit to a soldier who had lost all of his limbs and senses in a Canadian veterans' hospital.
Trumbo stated this in a New York Times interview shortly after the Johnny Got His Gun movie came out and it's been repeated ad nauseam. But no one ever seems to have looked into it.
The Prince of Wales did visit a soldier who lost his limbs in a Canadian veterans hospital, and the same soldier did appear in at least one newspaper article which referenced the meeting. The rest appears to be Trumbo's own invention.

The Blank: Joe's entire face is blown off, including his entire mouth. All he is left with is one hole for breathing.
Body Horror: Joe is reduced to the minimum necessary to sustain life. Even his limbs have been completely disarticulated, so he doesn't have so much as a stump.

Joe: Inside me, I'm screaming and yelling and howling like a trapped animal... and nobody pays any attention. If I had arms, I could kill myself. If I had legs, I could run away. If I had a voice, I could talk and be some kind of company for myself. I could yell for help, but nobody would help me.
---