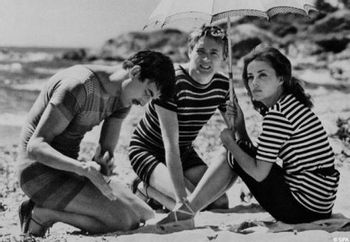 Jules and Jim (Fr: Jules et Jim) is a 1962 film directed by François Truffaut, adapted from the novel of the same name by Henri-Pierre Roché (Truffaut would later adapt his Two English Girls). It is commonly considered one of the most important films of the French New Wave and one of the key films of The '60s.
Jules (Oskar Werner) and Jim (Henri Serre) are, respectively, Austrian and French writers who meet in 1912 Paris. They form a fast friendship, enjoying the Bohemian life of pre-war Paris and catting around with various women. Eventually Jules falls in love with fiery, strong-willed Catherine (Jeanne Moreau). They marry not long before World War I separates Jules and Jim for four years.
The old friends look each other up after the war ends. Jim senses distance between Catherine and Jules, and Jules admits that Catherine has grown bored with him and has been cheating on him right and left. In fact, Catherine is on the verge of leaving him for another man. A desperate Jules asks Jim to claim Catherine for himself so Jules won't lose her. Jim, who has been carrying a torch for Catherine for years, readily agrees, and the three of them live together for a while, until jealousy and Catherine's emotional instability shatter their happiness.
---
Tropes: