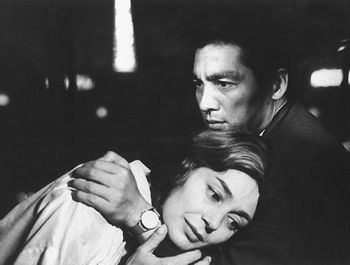 Hiroshima Mon Amour is a 1959 French film directed by Alain Resnais, shot in Hiroshima, Japan.
A French actress (Emmanuelle Riva) and a Japanese man (Eiji Okada) who speaks fluent French are having an affair in Hiroshima. He is a businessman who lives there while she is in town to shoot an anti-war movie. The film opens with a conversation between the two in which they meditate on the horrific damage done to the city by the atomic bomb in 1945. After that long introductory sequence, the woman leaves to finish filming her movie. They meet again after she's done, and have dinner in a restaurant. The woman, who is scheduled to go back to France the next day, then tells the man about her wartime romance with a German soldier in occupied France.
Hiroshima Mon Amour is regarded as one of the first examples of the French New Wave that made such a strong impression on cinema in The '60s.
---
Tropes: