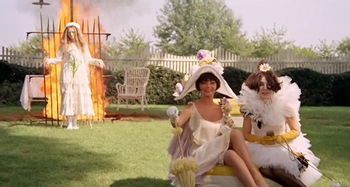 Juliet of the Spirits is a 1965 Italian film directed by Federico Fellini and starring his wife and frequent leading lady, Giulietta Masina. Nino Rota composed the soundtrack.
Juliet is a rather neglected middle-aged wife. Her husband Giorgio at the start of the film completely forgets their fifteenth wedding anniversary. The situation grows worse when Giorgio mutters another woman's name in his sleep. Juliet engages an investigator who discovers that sure enough, Giorgio is having an affair with a younger woman, a fashion model. Into this conflict comes Juliet and Giorgio's neighbor, the voluptuous, slutty actress Suzy (Sandra Milo) who urges Juliet to take revenge on her husband by having affairs of her own, and even tries to set her up with some studly young men.
Meanwhile, a psychic who is one of the hangers-on at Juliet and Giorgio's lavish mansion hosts a seance. This seance seems to open a sort of psychic door in Juliet's consciousness, as she spends the rest of the movie having visions of people and things from her past.
Commonly regarded as a Real Life Writes the Plot work which reflects the marital tensions between Fellini and Masina, as well as Fellini's struggles with his own latent homosexuality.
---
Tropes: