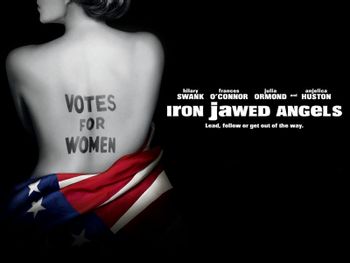 "We're legitimate citizens. We're taxed without representation. We're not allowed to serve on juries so we're not tried by our peers. It's unconscionable, not to mention unconstitutional. We don't make the laws but we have to obey them like children."
— Alice Paul
Iron Jawed Angels is a 2004 Made-for-TV Movie produced by HBO, detailing the tail end of the American campaign for women's suffrage.
---
This movie provides examples of:
Failure-to-Save Murder: The death of a woman during state-to-state campaigning is considered this by Alice.
Fan Disservice: There is one and exactly one scene with all of the women naked and some of their butts visible...as they're wet, shivering, and standing in a freezing cold prison. It's very obvious that the nudity is meant to be more demeaning than arousing.
Imminent Danger Clue: The man throwing the beer bottle during the parade scene. The congressman's wife takes this as a sign, and leaves just before the fight breaks out.
Truth in Television: Though it does invent a few characters, film is pretty accurate historically; there really was, for an example, a senator who voted "yes" at the last second because of a note from his mother. Entire scenes were copied from the history books, like the 'night of terror' where they were beaten, refused medical treatment, and Lucy was handcuffed standing up. At least one of the other women did stand in her position.
Trope Trigger: Every time Alice and Lucy 'flip for it' Alice loses.
Voice of the Resistance: Alice's description of her being force fed was implied to be the only communication they managed to get out while imprisoned. In reality, Lucy managed to get a network going to keep many letters going out, until they caught onto it and sent her off to a different jail.
We Win Because You Didn't: Attempted and failed by the National Women's Party. They tried to boycott Wilson and any democratic congressman who didn't support them. They fail.
Women Are Delicate: Discussed very often, most notably with: "In oranges and women, courage is often mistaken for hysteria."