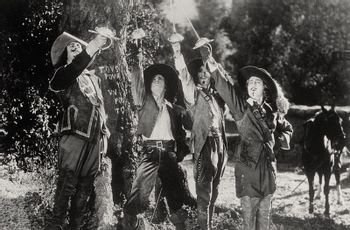 "Come on! There is greater adventure beyond."
The Iron Mask is a 1929 silent film starring Douglas Fairbanks. It is one of many film adaptations of Alexandre Dumas's novel The Three Musketeers, drawing plot elements from that novel but taking most of the plot from Dumas's sequel The Vicomte de Bragelonne. The film is also a sequel to Fairbanks's 1921 film The Three Musketeers. It was directed by Allan Dwan.
In this one Fairbanks returns as D'Artagnan, and he and the Three Musketeers are having swashbuckling fun in 1638 France. Meanwhile, King Louis XIII is thrilled by the birth of his son and heir, the future King Louis XIV. The situation is immediately complicated when the birth of the boy is followed by the birth of a second boy, an identical twin brother. Cardinal Richelieu, fearing that the presence of two twin sons of the king raises the threat of dynastic instability and war, packs the second child, Phillipe, off to the country to be raised in secret. D'Artagnan's lover, Constance, was the lady-in-waiting at the birth, and for this Richelieu has his dragon Count De Rochefort send Constance away to be imprisoned in a convent. D'Artagnan tries to rescue her but fails to arrive before tragedy strikes. Richelieu in turn breaks up the Musketeers, ordering Athos, Porthos, and Aramis to their home properties while assigning D'Artagnan to be a guardian of the boy Louis. De Rochefort has his own schemes, however, which involve a switcheroo of twin brothers.
The Iron Mask was one of the last major silent films released in Hollywood. It was Douglas Fairbanks' farewell to both the silent film medium and the action-adventure films that he had been making throughout The Roaring '20s. Fairbanks had no enthusiasm for talking films, and in any case he was 46 years old in 1929 and aging out of the action film genre. Fairbanks dabbled in talkies, making five films before he retired in 1934, but never made an action film again.
The Dumas novel has been adapted for film many times, including a 1998 version that starred Leonardo DiCaprio as the royal twins.
---
Tropes: