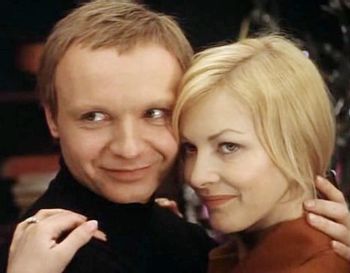 The Irony of Fate, or, Enjoy Your Banya! (Ирония судьбы, или С лёгким паром!) is a Soviet romantic comedy television movie from 1976. It was directed by Eldar Ryazanov and starred Andrey Myagkov and Barbara Brylska (Pharaoh).
Zhenya (Myagkov) is a surgeon in Moscow on New Year's Eve. He is preparing to greet the new year with his sexy young girlfriend Galya, who has just agreed to marry him. Zhenya's friend Pavlik comes by the apartment to pick up Zhenya and take him to the banya (a public bathhouse) for their traditional New Year's Eve bath. Zhenya and Pavlik meet their other two friends at the bath, and the foursome starts toasting Zhenya's engagement with vodka shots. Pavlik has to catch a plane to Leningrad, so the party moves to the airport, where both Zhenya and Pavlik pass out drunk while they wait for the plane. Zhenya's other two friends, themselves quite drunk, can't remember who was supposed to get on the plane, and they wind up putting Zhenya onboard by mistake.
Zhenya sleeps through the whole flight to Leningrad and then stumbles his way to a taxi. Still very drunk, he gives the taxi driver his address. Due to the uniformity of Soviet urban planning, the street names and addresses are the same, as are most of the buildings that a half-conscious Zhenya passes by while riding in the taxi. He is dropped off by the taxi driver at the Leningrad address that matches his Moscow address. Soviet architecture is so uniform that his key even opens the apartment that matches his Moscow apartment. Zhenya doesn't notice he's in the wrong apartment any more than he noticed he was in the wrong city, instead flopping down on the bed to sleep off his liquor. The situation grows more complicated when the person who actually lives in the apartment, a language and literature teacher named Nadya (Brylska), arrives home to find a strange man asleep in her bed. It grows still more complicated when Nadya's fiance Ippolit arrives to see in the New Year with Nadya and finds a strange man in her apartment.
The Irony of Fate aired on Soviet television in two parts on Jan. 1, 1976. It was a massive hit, so successful that it was released in theaters later that year. It has since become a Russian holiday tradition, airing on New Year's Eve every year since.
In 2007 a sequel, The Irony of Fate 2 (or The Irony of Fate: Continuation), was released in theaters. It picks up the story 30 years later.
---
Tropes in The Irony of Fate:
---