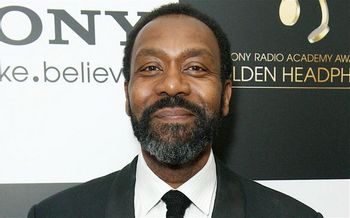 "When I started, I was surrounded by a predominantly white workforce. Thirty-two years later, not a lot has changed."
Sir Lenworth George "Lenny" Henry, Kt CBE (born 29 August 1958 in Dudley, England) is an English actor, writer, comedian and occasional television presenter, but to American audiences, he's best known as the Shrunken Head from Harry Potter and the Prisoner of Azkaban.
He was the first host of Comic Relief, and is still heavily involved with the event. His best known sitcom is Chef!. Branched out into theatre acting in the 2000s with roles in William Shakespeare's Othello and The Comedy of Errors.
He was married to fellow comic Dawn French from 1984 to 2010. In recent years Henry has heavily criticised the British entertainment industry for its lack of minority representation in both on and off camera roles.
---
Filmography
---
His work provides examples of:
---