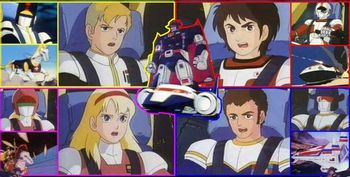 Sei Juushi Bismarck takes place far in the future, when much of the solar system has been colonized by humanity. However, a race of alien invaders known as the Deathcula launched an attack 15 years before the story began, but were repelled.
Now, the Deathcula have returned and set their sights on Ganymede, a moon of Jupiter undergoing colonization. In response to their attacks on isolated towns and garrisons, the Earth Federation creates the Bismarck Team: a squad of four explorers aboard the experimental ship Bismarck.
Shinji Hikari, team leader, race car driver and main pilot. Bill Wilcox, gunslinger, ace pilot and weapons expert. Richard Lancelot, swordsman, equestrian and all-round ace. Marianne Louvre, daughter of the Bismarck's creator who also had a hand in its development and so knows it better than most. Their goal: to protect the colonists of Gandymede (and later the citizens of the solar system) from the malevolent Deathcula imperium.
Although not as popular as Saber Rider and the Star Sheriffs, an Americanized (and arguably Macekred) dub produced by World Events Productions, it is more sophisticated—and unlike Saber Rider, it does have action figure toys in its own country.
---
Tropes:
Zerg Rush: The basic Deathcula tactic is to overwhelm the enemy with masses of small, one-man attack craft launching missiles and blaster fire from all directions. It's actually very effective, and even the Bismarck has almost been overwhelmed. Unfortunately for Deathcula, in the final few episodes the Federation uses the same tactic against them... except the Federation forces are much, much, much bigger and use freaking warships instead of one-man attack craft.
---