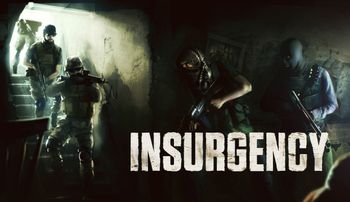 Insurgency
is a 2007 freeware total conversion Source mod featuring realistic gun mechanics and teamwork-based gameplay pitting a conventional army against partisans. The
Steam
release of the mod is titled
Insurgency: Modern Infantry Combat
. Developed by InterWave Studios, a commercial version released as
Insurgency
was later made by New World Interactive (with many of the mod's original developers) using the
Portal 2
Source engine, on January 22nd, 2014.
A spin-off World War II Game Mod, titled Day of Infamy, was released initially on the Steam Workshop, which was then endorsed by the developers, and eventually has its own standalone release.
You can download the mod from Steam here
(a Source engine game is required, see the list here
). The commercial version's website is here
, and is also on Steam here
.
On 23 February 2016, New World Interactive alongside their new publishing partner company, Focus Home Interactive announced Insurgency: Sandstorm, a remake of sorts on Unreal Engine 4 slated for release somewhere in 2017 for the PC as well as the PS4 and Xbox One consoles. Aside from updated graphics and different game engine, it will also feature an eSports framework as well as the air support functions borrowed from Day of Infamy.
---
This series provides examples of:
---