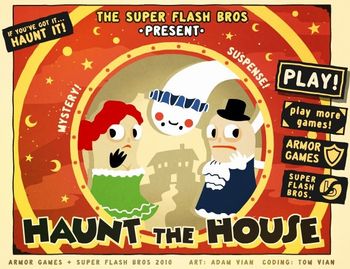 "We begin at the stroke of midnight... Tonight will be the night of a haunting!"
Haunt the House
is an online Flash game. It was created by The Super Flash Bros in 2010.
The star is a cute little ghost who lives alone in a mansion. One night, a bunch of high-class snobs throw a party in his house. The ghost isn't happy that these people are invading the house. So the ghost must scare them all out by possessing various household objects and making them do supernatural things. However, scare someone too much, and they will be so desperate that they will jump out the window to their death. The goal is to scare all 30 people away as fast as possible, and with as few casualties as possible.
A sequel, Terrortown was released in 2014. It involves multiple game modes, including the main one, Terrortown, which involves scaring off a whole town whilst making a "ghost family" in the process, Mansion House, which is a remake of the first game, North Pole, a winter-themed level, and most recently, Ghost Train, which takes place on a carnival train.
Not to be confused with Haunted House.
Both games contain examples of:
Haunt the House, and the Mansion House mode in Terrortown, contain examples of:
Haunt the House: Terrortown's other modes contain examples of:
---